Uriel von der Herbordsburg
38/38 cm
Auge ok, PL-frei, prcd-PRA A,
vWD1 N/N, DM N/N, NE N/N,
MH N/N

Ahnentafel/Pedigree Uriel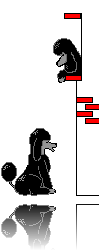 Am 11.06.2020 haben geheiratet:
Having got married on June 11, 2020:
Jugendchampion
Talita von der Herbordsburg
38/40 cm
Auge ok, PL-frei, prcd-PRA A,
vWD1 N/N, DM N/DM, NE N/N,
MH N/N

Ahnentafel/Pedigree Talita

Am 10. August 2020 brachte Tali ihre ersten Kinder, 3 Rüden und 4 Hündinnen, zur Welt. Die Geburt verlief reibungslos. Mama und Kindern geht es sehr gut. Die Geburtsgewichte bewegen sich von 190 g - 220 g. Alle haben eine kräftig Fawn-Farbe.

Tali took her first children, 3 males and 4 females, to the world on August 10th, 2020. The birth proceeded smoothly. Mom and children
are very well. The birth weights 220 g move of 190 g. Everyone has one for Fawn strongly color.




Babys 2 Wochen alt / Babies 2 weeks old
Den kleinen Rackern geht es sehr gut. Sie sind kugelrund. Alle haben ihr Geburtsgewicht verdoppelt. Die 1. Wurmkur haben sie gut vertragen.
The little rascals are very well. You are tubby. Everyone has her birth weight double. She has stood the 1st worming treatment well.